SUMMER 2017: OUTDOOR  MOVIES SEASON AT COMMUNITY GARDENS IN BROOKLYN :
THE 6/15 GREEN COMMUNITY GARDEN, 6 TH AVE AT 15TH ST . Park Slope, Brooklyn   9:00 PM Saturday June 3rd 
THE THREE WORLDS OF GULLIVER (1960) 
Special effects wizard Ray Harryhausen gives us a rousing version of the 18th-century fantasy Gulliver's Travels by Jonathan Swift.  Handsome Kerwin Matthews, (who also played Sinbad in other Harryhausen movies), is shipwrecked on an island inhabited by tiny people.  Dynamation, which is re-photographing live action against  a rear projection of previously shot footage, is used to good advantage to show Gulliver a giant among  tiny folk. Later, the process is reversed to show Gulliver on another island inhabited by giants.  On Lilliput, the small folk enlist Gulliver in their war with nearby rivals. On Brobdingnag, land of giants, he is clutched like a doll by a huge girlchild.  With lovely Jo Morrow as Gulliver's fiancée and Mousketeer Sherry Alberoni as the giant child Glumdalclitch.  Bernard Herrman's excellent score keeps it all moving along.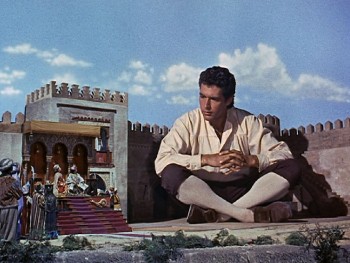 THE BOSKONE 54 SF CONVENTION IN BOSTON:
FEBRUARY 17-19
Announcing Mike's first 16mm Vintage Film Room for the well-known Boskone SF Con at the Westin Waterfront Hotel in Boston.  It's  the longest-running science fiction convention in New England!  Register for Boskone and you will have a fabulous weekend to feed your imagination and join hundreds of intelligent, literate adults at play. For details about the event, location, schedule and registration, go here:  http://www.boskone.org/
HERE IS THE FILM SCHEDULE
FRIDAY FEBRUARY 17:
7:00 pm         Torpedo of Doom (1938) – 100 minutes
The Lightning, a hooded, caped villain resembling Darth Vader, plans to rule the world with his mastery of electricity, throwing deadly lightning-charged torpedoes from his flying-wing aircraft. Olympic champ turned actor-stuntman Herman Brix (later known as Bruce Bennett) is the heroic Marine Officer who must stop him.  With chases by car, motorcycle, and speedboat, plus submarine, flying-boat and dirigible action, plus endless well-staged fights, you'll fight to catch your breath!
9:00 pm           Flash Gordon:  Mars Attacks The World (1938) –            68 minutes
Buster Crabbe as Flash versus Charles Middleton as Ming The Merciless in a feature condensed from a great serial. Can Flash defeat the Nitron Lamp ray destroying Earth's atmosphere?  Who are the Clay Men melting in and out of the cave walls? Can we cross a chasm on a beam of light?  And how can those stubby Stratosleds fly? Watch science beat magic as the Martian Witch Queen's mystic jewels are destroyed by electricity!
SATURDAY FEBRUARY 18
1:00 pm   Meet Ray Bradbury– 4 hours
We'll see a 1963 documentary in which the writer explains himself as he goes about LA on his bicycle, mentors younger writers, and develops a story about the telephone system developing consciousness, predicting the "singularity" we are now expecting. And then, some half-hour dramatizations of his best-known stories:
The Veldt: A 1951 story predicts virtual reality as children get absorbed in a playworld gone wrong.
The Murderer : A 1953 story predicts information overload as a man is driven mad by his smartphone, and is incarcerated for smashing it, in a world saturated by audiovisual input.
Zero Hour: A 1953 story shows how the kids aren't kidding when they collaborate in an alien invasion from another dimension.
The Electric Grandmother: A 1969 story explores Artificial Intelligence, as a family learns to love a humanoid robot.
The  Flying Machine: A 1953 story set in ancient China shows how innovation cannot stand up to authority, to the dismay of a miraculous inventor.
7:00 pm         Doc Savage: The Man of Bronze (1975) – 100 minutes
Great design and special effects by George Pal in his last film: Ron Ely is heroic Doc who battles villainous Captain Seas and "The Green Death" for control of a fabulous resource. Will doc solve the mystery of his father's death?  Will his assistant ever drop the baby pig under his arm? A sweet and silly salute to the  epic hero or yesteryear.
9:00 pm           Master of the World (1961) – 102 minutes
Vincent Price excels as Jules Verne's Robur, the Captain Nemo of the Air, waging war against war in his steampunk airship In 1868. An American scientist and his team become hostages of this fanatical pacifist onboard The Albatross, a visual confection designed by Jim Danforth.  With Charles Bronson, Mary Webster, Henry Hull.
Price gives a credible and restrained performance  as the pacifist madman who seeks to end all war by threatening aerial bombardment.  Charles Bronson, so young he's almost cute, is the US agent onboard the amazing airship Albatross.
NEXT UP: VINTAGE FILM ROOMS FOR TWO MORE SF CONVENTIONS: THE HELIOSPHERE  MARCH 10-12  AND THE LUNACON, APRIL 7-9, BOTH OF THEM IN WESTCHESTER NY.  WATCH THIS SPACE FOR DETAILS. VISIT THESE WEBSITES TO REGISTER:  http://www.heliosphereny.org/   http://2017.lunacon.org/
*********************************************************************
We will no longer be presenting  feature films at the  Morbid Anatomy Museum in Gowanus, because the museum is now closed.
**************************************************
MISSION TO MONGO AVAILABLE FOR SCREENING
A new  3-hour feature cut of Flash Gordon Conquers the Universe tells the  most complete  story available of this  fabulous epic serial. To arrange a screening, contact  Mike: mikemovie@hotmail.com and put MONGO in the subject line.
**************************************************