JOIN  ME AT THE EVIL EXPO IN FEBRUARY 2021!

The Evil Expo   at the Westin  Hotel in  Princeton NJ:  A convention devoted to Villains in fiction, film and comics! Events including my 16mm film screenings, plus lectures, demonstrations, live music and  specialty acts onstage, costumery and cosplay, parties, and  panels discussing  the variety of evil.  In addition to  showing film, I  plan to  moderate   a panel on madman who want to rule the world and  another one on female villains. 
Here are the  screenings I have lined up for the Evil Expo. Each one highlights an outstanding villain!

ISLAND OF LOST SOULS (1933)  Charles Laughton is the giggling, nutty Dr. Moreau, who is turning animals into manlike creatures through vivisection in his House Of Pain. The beast-men worship him as god. They recite his laws in an eerie, pathetic ritual voiced by furry-faced Bela Lugosi — not to shed blood, eat meat, or go on all fours. Richard Arlen is the shipwrecked sailor the madman tries to mate with his creation, the Panther Woman (Kathleen Burke). This film has a moody, atmospheric quality that we rarely see today and an interesting Freudian subtext.  From the H.G. Wells story.

ISLAND OF DOOMED MEN (1940) Peter Lorre is at his best as a mad, sadistic villain! He was a serious student of abnormal psychology who attended Freud's lectures as a youth in Vienna. So it's no surprise he can give us a chillingly accurate portrayal of a malignant narcissistic personality disorder!  
In this story, He's running a penal colony with slave labor using convicts paroled into his custody. His sadism is subdued, his wife despises him, his white tropical suit is impeccable. Robert Wilcox is the federal agent undercover as a prisoner who must organize a slave revolt. Rochelle Hudson is Peter's lovely enslaved wife, desperate to break free. Charles Middleton, a powerful actor famed for portraying villains, is surprisingly restrained as Peter's scheming second-in-command.  
Directed by Charles Barton, who gives us a pace that will hold your attention, with lots of action and careful attention to characterization. A forgotten gem that is most entertaining, a well-told tale. 
  THE BLACK CAT (1934) The Black Cat, with Boris Karloff and Bela Lugosi, directed by German expressionist Edgar Ulmer. Not a horror film but a moody meditation on the despair unleashed throughout the world by The Great War. After 15 years in a Russian prison camp, Lugosi has returned to Hungary to confront Karloff, the commander of the fortress of Marmoresz, who betrayed him and all his men when he surrendered to the Russians. Karloff has turned Ft. Marmoresz into his art-deco residence, where he is leading a satanist cult, and has married Lugosi's wife. And then, when she died, he married Lugosi's daughter. In real life, Lugosi served as an artillery officer in the Carpathians and was twice wounded in combat with the Russians, Karloff was spared service because of a bad back, and Ulmer was too young to enlist. But they all lived through the war and its impact echoed within them. It was Universal's biggest box office hit of the year, and was one of the first movies with an almost continuous music score.  

MARS ATTACKS THE WORLD (1938) Also known as Flash Gordon's Trip To Mars. Ming The Merciless has come to Mars and cut a deal with Queen Azura. He's destroying our atmosphere with the Nitron Lamp, only Flash, Dale and Dr. Zarkov can save us. Meet the Clay Men who come out of the cave walls, are they friend or foe? Cross a chasm on a bridge made of light! Fly a chunky, art-deco Strato-Sled! Learn the secret of the mystic gems, the Black and White Sapphires. Endure the torment of Ming's deadly Disintegration Chamber! With lots of thrills and action, a silly script, bad acting and crude special effects!

   AN ASSORTMENT OF SERIAL CHAPTERS   introducing a variety of  old-time madmen with evil schemes to rule the world or worse!
SHOWS  CANCELED BY THE COVID TO BE RESCHEDULED:

I WAS LOOKING FORWARD TO SHOWING REAL 16MM FILM AT THESE  CONVENTIONS, BUT THE  BALTICON  IN MAY, AND THE GILT AND FANFARE STEAMPUNK EVENT IN JUNE,  PLUS THE ALBACON IN SEPTEMBER, WERE CANCELED. 
FOR THE ALBACON,  I PLANNED TO PRESENT MOVIES  PREDICTING A FUTURE THAT NEVER CAME TRUE AND  MODERATE  A PANEL ON   "GOLDEN AGE PREDICTIONS, HIT OR MISS?"   FEATURES  PLANNED FOR THAT SHOW ARE NOW DEFERRED BUT WILL BE PRESENTED IN THE FUTURE ON DATES TO BE DECIDED :
EARTH TWO (1971)  Set on an orbiting wheel resembling Clarke's 2001 Space Hotel. Good interiors, good predictions of space shuttle and EVA operations. A bit of coldwar conflict and hippie goodvibes  provide a wee whiff of fromage.   The Chinese put  a nuke in orbit, can our guys defuse it?  With Gary Lockwood, Mariette Hartley, Scott Hylands, Hari Rhodes, Anthony Franciosa. 

THINGS TO COME (1936)  H.G. Wells' futurology predicts a world war lasting 20 years, the destruction of civilization and its technocratic rebirth through science  and reason.  Beautiful design by director William Cameron Menzies, first-rate performances by Raymond Massey, Ralph Richardson, Margaretta Scott, Cedrick Hardwicke.  Oh, those lovely planes and tanks!  A Jumbotron screen! And that moon-shot cannon!   
 AND I HOPE TO HAVE  A WONDERFUL CONVENTION DEVOTED TO MOVIE SERIALS THIS SUMMER AND ALSO SHOW AT THE STEAMPUNK HALLOWEEN FESTIVAL, BOTH  AT THE BLACKTHORNE RESORT IN THE CATSKILLS IN OCTOBER  2021!
*************************************************************************

 PAST SHOWS I CAN  REPEAT FOR YOU:
LAST YEAR'S EVIL EXPO:
JANUARY 24-26 2020:                                                                                DOUBLE FEATURES:                                                                                                 FRI. 8:00 PM TO MIDNIGHT                                                                                  –AND–                                                                                                                                SAT.  7:00 TO 11:00 PM.                                                                                                PLUS TWO PANEL DISCUSSIONS   WITH                                               FILM CLIPS:                                                                                                                    EVIL WOMEN SAT. 1:00 PM                                                                                 THE YELLOW PERIL SUN. 1:00.                   
Friday Night January 24– Two Old Favorites: 
8:00 PM                          BLUEBEARD (1944)
BLUEBEARD, with John Carradine as the serial strangler of women in old Paris.  In this 19th century period piece he plays a sinister puppeteer who operates a diabolical marionette opera.  Jeanne Parker is the lady he's stalking; Nils Asther is the detective who is stalking him.  Directed by Edgar G. Ulmer, who was a genuine German Expressionist, and it shows in this deeply lit and intensely styled low-budget film.  Ulmer was a production designer who worked with Murnau before he came to Hollywood. All his work shows superbly sinister, threatening design and lighting. This film is all atmosphere and suggestion, hardly any violence is shown. When Bluebeard strangles his victims, we see a tight closeup of Carradine's eyes bulging maniacally!  You couldn't ask for a better homicidal maniac.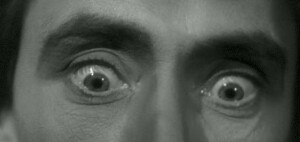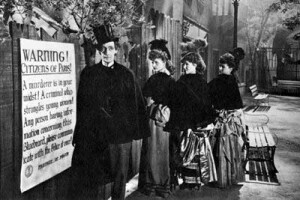 10:00 PM           MOST DANGEROUS GAME (1932) 
Here's exciting pulp fiction, shot on the familiar Kong Island set, with the same King Kong director, Ernest Schoedsack, and some of the same stars. Robert Armstrong, Fay Wray and Joel McCrae are pursued through the jungle by Leslie Banks. Based on Richard Connell's classic short story. A cabin cruiser is shipwrecked off the coast of a remote island and the three passengers survive. The island is owned by Mad Count Zaroff, who invites them to stay. But he's a psycho sadist who enjoys hunting, and he only hunts The Most Dangerous Game –Man! Leslie Banks hams it up in a very archaic stage-actor's style, the sort of mugging that was later polished by Vincent Price in his villainous roles. A very early sound movie, where the actors must stay close to the hidden mics and shout. But action scenes, lacking dialog, are nice and fluid, like the best of late silent cinema. Here is the transition from silent to sound usage. The pre-code Freudian subtext is nice, too, as Zaroff shows the link between passion and murder.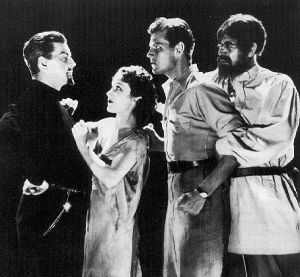 Saturday Night January 25– Two Old Forgotten gems: 
 7:00                          PM  MUTINY (1952) 
Early in the War of 1812, Mark Stevens is an American sea captain, commissioned to run the British blockade and fetch an unofficial war loan in gold bars from France. His first mate, Patric Knowles, is a dishonored former British Navy captain. The gun crew, headed by Gene Evans with a hook hand and rowdy Rhys Williams, plot a mutiny to seize the gold. The plot thickens when a femme most fatale, the very young and lovely Angela Lansbury, comes on board. She's after the gold, too, and doesn't care who she betrays or kills in order to get it. The climax involves a primitive wooden submersible, a very unreliable kind of early submarine. Edward Dmytryk directs this salty and exciting tale.
9:00 PM                 RING OF FEAR (1954)   
A very entertaining  feature starring crime novelist Mickey Spillane and animal trainer Clyde Beatty as themselves.  Set in Beatty's circus and padded out with many specialty-act performances.  Actor Sean McClory shines as a scary, scheming homicidal maniac.  He's escaped from the nut house and joined the circus to stalk his former girlfriend and set up a series of mysterious accidents.  Beatty asks Spillane to help solve the mystery.  There is a faint echo of Nightmare Alley (1949) in the plot and characters.  The Beatty circus is still in business; you can see it every spring in Marine Park!  Spillane is best known for his hard-boiled detective Mike Hammer in a series of violent novels.
                                                                                                                                                                                                                                                                                                                                                                                                                                                                                                      PANEL DISCUSSIONS: 
 1:00 PM SATURDAY JANUARY 25—LADIES OF EVIL!           FEMALE VILLAINS IN MOVIES SERIALS AND PULP FICTION! WE'LL SEE A SERIAL CHAPTER  WITH CAROL FORMAN AS  SOMBRA THE BLACK WIDOW.  
1:00 PM SUNDAY JANUARY 26—THE YELLOW PERIL!                  EVIL ASIANS IN PULP FICTION AND FILM FROM FU MANCHU TO RICHARD LOO.  FILM REELS WILL INCLUDE A DOCUMENTARY ON  STEREOTYPES, A FLASH GORDON CHAPTER WITH MING THE MERCILESS, AND A TV SHORT WITH  NASTY RICHARD LOO TORTURING VINCENT PRICE !

MORE RECENT EVENTS:
THE ALBACON SCIENCE FICTION CONVENTION IN ALBANY NY SEPT 13-14-15 2019
THE WORLD'S FIRST BUSTER CRABBE FILM FESTIVAL!
MEET THE ONLY ACTOR EVER TO PLAY ALL THREE OF THE GREATEST PULP FICTION HEROES:  FLASH GORDON,
BUCK ROGERS AND TARZAN!
Friday Night, BUSTER'S INTERPLANETARY ADVENTURES:
A double feature, Flash Gordon and Buck Rogers.
Saturday Afternoon, a panel discussion on Buster and his films.
Saturday Night, BUSTER'S BUNGLE IN THE JUNGLE:
A double feature, Tarzan The Fearless and Nabonga.
http://2019.albacon.org